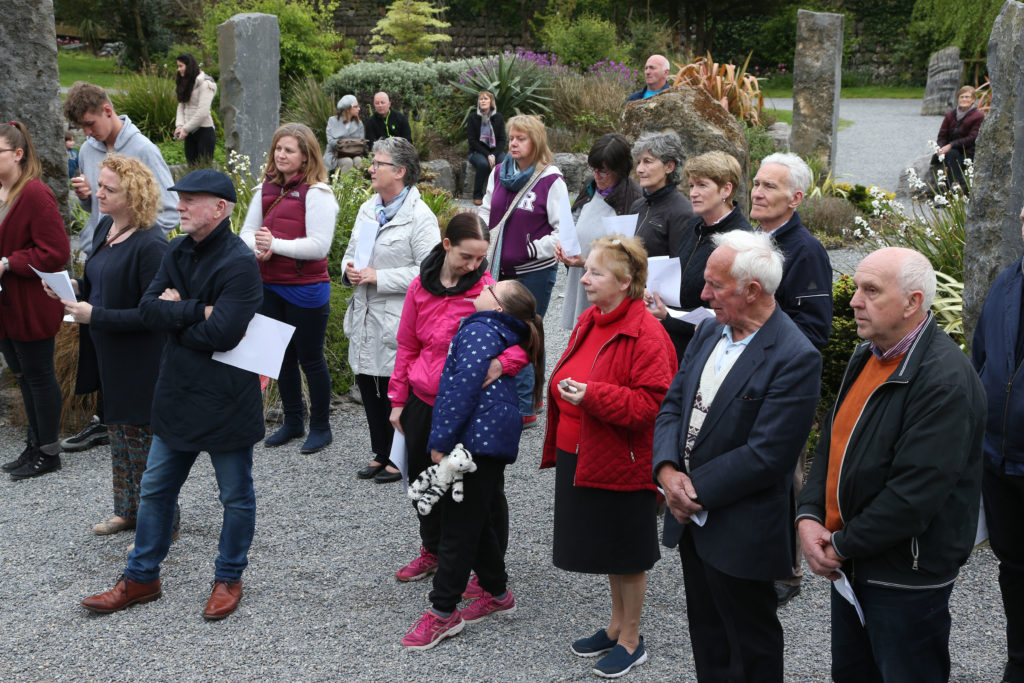 A deeply moving vigil to remember and honour the "Tuam Babies" took place in Galway on Sunday evening.
The Honouring the Babies event was organised by First Light, a charity which provides specialised bereavement counselling to families who lose babies and young children.
It was all the more poignant because it was attended by a number of survivors from Mother and Baby Homes across the West of Ireland who had been impacted by the findings of the Commission of Inquiry last month.
First Light representative in Galway Emer Hennelly says the idea behind the event at the Circle of Life Garden in Salthill was to honour all of those children who lost their lives in institutions across Ireland.
She said young families who avail of the specialised counselling provided by First Light had been deeply moved by the "Tuam Babies" revelations in recent weeks.
The charity, which used to be known as the Irish Sudden Infant Death Association (ISIDA), also attracted a record attendance to its Mile in Memory walk in Salthill earlier the same day.
Parents, siblings, friends, and neighbours of children who passed away too soon walked a mile from the Galway Bay Hotel before returning to the Circle of Life Garden to release balloons in memory of their loved-ones.
"Not only did we want to let off the balloons to remember the little ones who left us too soon, we wanted to use the occasion to honour and remember the 796 Tuam Babies and all of those children who died or grew up in Irish Mother and Baby Homes," said Emer.
The sudden loss of a child is the most unimaginable pain a family can suffer and Emer said it was important to remember all children who died too young, as well as supporting today's parents in their darkest hour.
First Light have supported families in their darkest hour for 35 years and Emer says that many of today's parents were deeply moved by the recent confirmation that hundreds of babies may have been buried at unmarked graves in Tuam.
"For 35 years, we have been helping families finding help and support following the sudden or unexpected death of a child. We felt it was important to honour all babies who passed away in Irish institutions," says Emer.
Ms Hennelly said the First Light organisers were thrilled that historian Catherine Corless, who spoke at the event, and survivors from the Tuam home attended Sunday's event.
Journalist Ciaran Tierney, who was MC for the 45 minute ceremony, said Ms Corless was a modern Irish hero.
"Only for her painstaking research, the world would never have heard about the 'Tuam Babies'," he said. "Catherine was determined to find out the truth about what happened at the Tuam home and, in doing so, she has given a voice to the voiceless.
"Some of the survivors have said they were unable to talk about their experiences in the home until Catherine's research was made public. They said she has given them the courage to speak out for the first time."
Poignant poetry and song
Two Galway-based singers, Sinead Nic Gabhann and Ruth Dillon, sang deeply poignant songs at the gathering and Caroline Quigley, author and healer, read a poem she wrote especially for the event.
Ronan Scully read a poem in memory of a friend's child, who died tragically just days prior to Sunday's moving ceremony.
"By receiving help in dealing with bereavement from appropriately trained professionals, parents and families can learn to live with their grief and begin rebuilding their lives," said Ms Hennelly.
The survivors from the Tuam home were invited to the front of the stage where they joined Ruth Dillon for a moving rendition of 'We Are The World' at the end of the ceremony.
A blog post about Catherine Corless, a modern Irish hero:  http://ciarantierney.blogspot.ie/2017/04/the-tireless-determination-of-modern.html