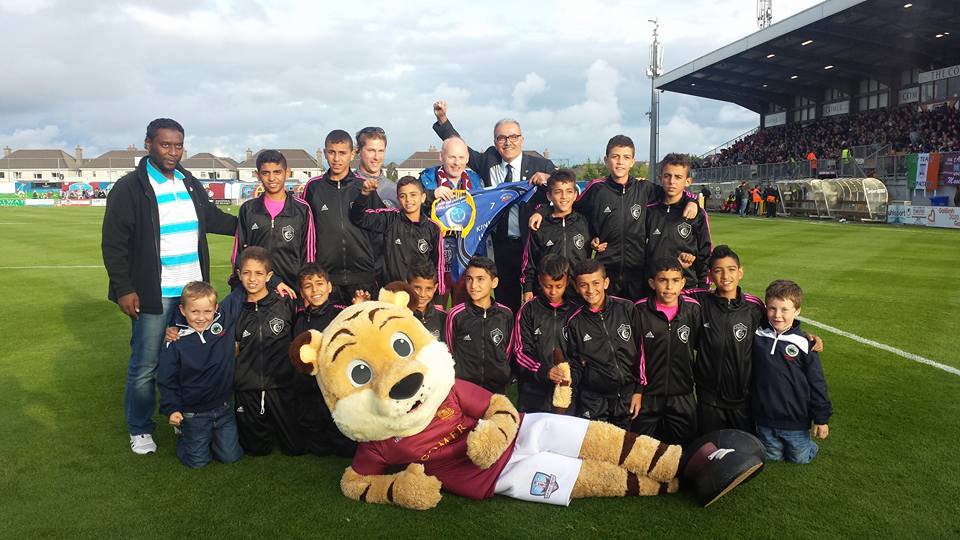 An underage soccer team from Gaza are on their way to Ireland this summer and you can play your part in getting them here by joining a late night party with members of The Stunning in Galway on Sunday, July 22 (11pm).
Fresh from their Galway International Arts Festival gig at the Big Top on the same night, the members of the band are putting on a night of tunes and nostalgia to celebrate with their fans and friends into the early hours.
All proceeds from the gig at Massimo, William Street West, go to the Gaza Kids to Ireland project and there is a suggested donation of €10 on the door.
The boys from the Al-Helal Football Academy captured the hearts of many Galway people when they visited Kinvara over the past two summers and it would be incredible if their trip to Ireland could become an annual event.
The boys were also delighted to meet the President of Ireland, Michael D. Higgins, when they attended a game between Galway United and Dundalk FC at Eamonn Deacy Park in 2016, when the entire main stand gave them a sustained round of applause.
The Stunning were formed in Galway in 1987. Lead singer Steve Wall recalls his formative student years in the city when he got involved in various causes, including the divorce referendum, a protest against US President Ronald Reagan, and the global boycott of South Africa during the Apartheid years.
"In many ways, Galway formed us. There was a sense of creative freedom and artistic adventure in the place that definitely had an effect on the band we became.  Galway was also home to a lot of misfits, which I loved," says Steve.
"Galway students were very outspoken. I saw the importance of making your voice heard and saw the changes that were made possible in doing so. Look at the recent referendums and how people rallied together. I believe that if you feel something is wrong, then you need to do something about it instead of expecting others to do it on your behalf."
Steve says he has been appalled by the disregard for human rights and international law which has gone on in Palestine over the years. He feels it's important to use his platform as a musician to speak out against injustice.
"The blatant ethnic cleansing of a nation is happening before our eyes and the silence of the world is a disgrace. So I try to do whatever I can to keep their plight visible and to highlight what's going on," he says.
"Even if it means just letting my friends know on social media that a local supermarket is selling Israeli potatoes then it's something. The international boycott of South African goods had a huge effect on the ending of Apartheid, but it seems harder to get the world to react to the destruction of Palestine."
He points out that 1.9 million people are living under siege in Gaza, a tiny strip of land which has been described as an open air prison and is just 6% of the size of Co Galway.
Members of The Stunning will take turns on the decks at Massimo to spin some of their favourite tunes, but they will get the opportunity to mix with old friends following their Big Top show at the Fisheries Field. The Big Top show starts at 8pm.
Support at Massimo comes from acclaimed Galway 'indie' DJ Foz, who will start the party while the members of the band are making their way over to the gig from Fisheries Field.
The entire Gaza Kids to Ireland project is organised and funded by volunteers. Given how appalling living conditions are in Gaza, this soccer trip is seen as a huge morale-booster for the talented young soccer players and their families.
Footballers in Gaza are regularly harassed at checkpoints, prevented from travelling, and forced to cancel games. The Al-Helal ground in northern Gaza, where the boys play their home games, was bombed by Israel in 2012 and again in 2014.
Children in Gaza are among the most traumatised in the world. Many of the Al-Helal boys were emotionally scarred by the 2014 Israeli military assault on the Gaza Strip, in which more than 2,250 Palestinians, including 551 children, were killed.
But football coaches and rival teams in Ireland have been amazed by the spirit and skills of the Gaza youngsters, who are looking forward to returning to Ireland to represent their country with pride.
Your €10 donation can help make this trip happen. Doors open at 11pm.
You can also find out more or donate towards the cost of bringing the children to Ireland at http://gazaactionireland.ie/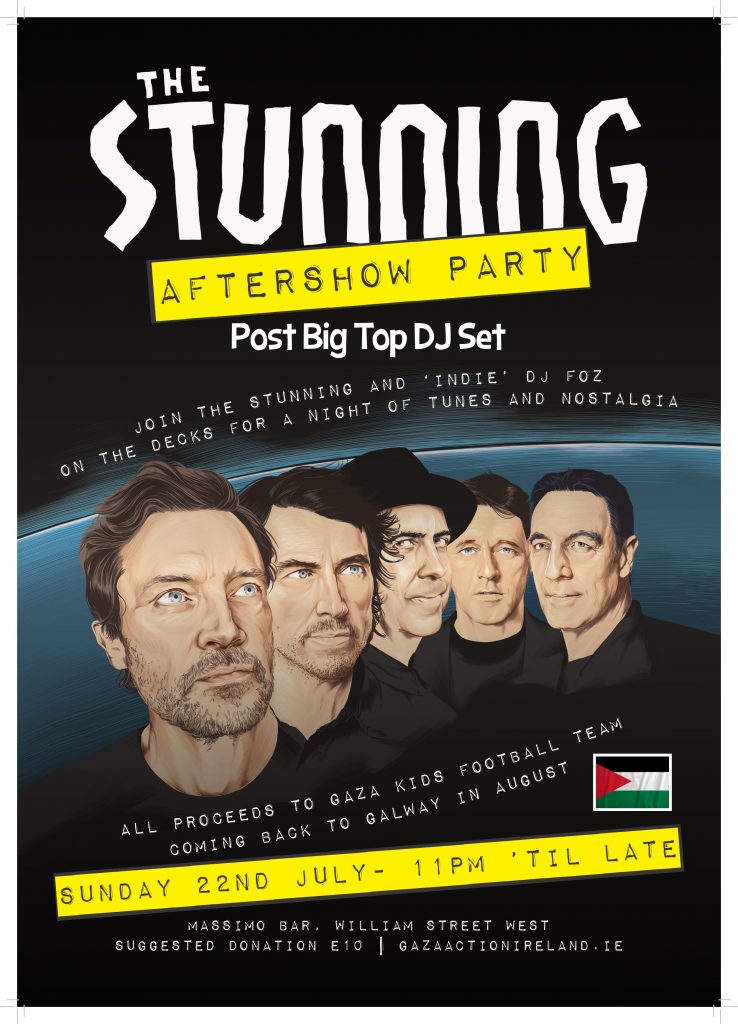 Ends…