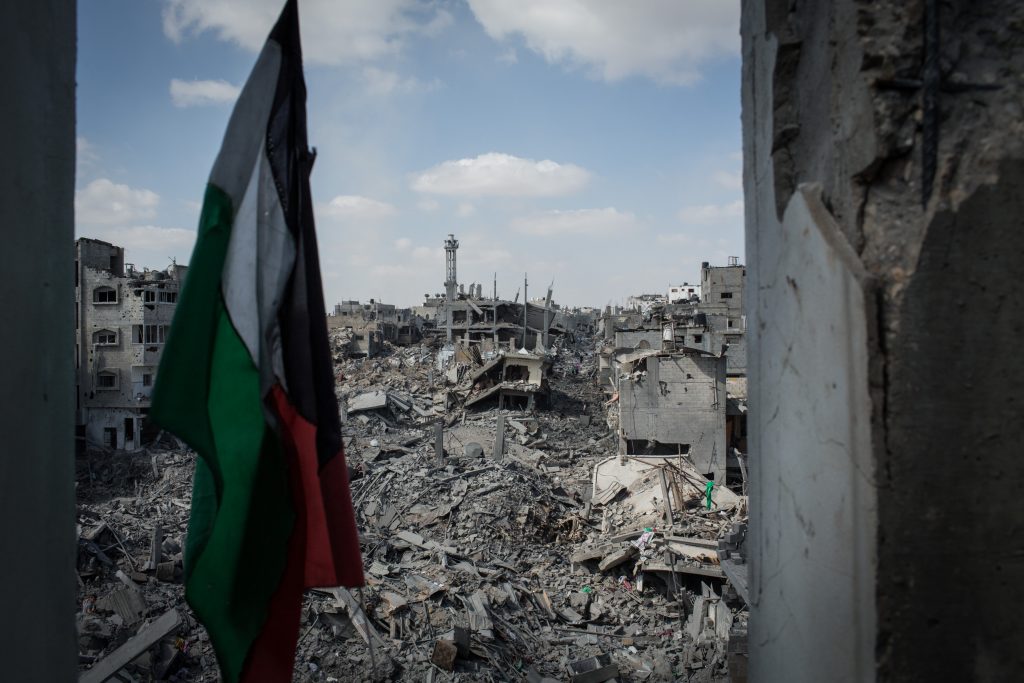 The Galway Film Fleadh consistently punches well above its weight in terms of treating West of Ireland audiences to stunning documentaries and next week will be no exception when two Irish-based directors will give an insight into life in one of the most troubled places on earth.
Gaza, at the Town Hall Theatre on Friday (July 12, 1.45pm) is one of three films based in or about Palestine to feature at the six day festival which will also feature some compelling firms from war-torn Syria.
The lunch time screening of Gaza will be followed by what should be a hugely educational Q and A session with Irish-based directors Garry Keane and Andrew McConnell, who will speak about the difficulties in shooting a film about day-to-day life in a place where almost two million people live under a brutal siege.
Blockaded on every side by Israel and Egypt, the tiny coastal enclave has witnessed three wars in the past decade alone. Israel has imposed a blockade, completely sealing off Gaza's borders, for 12 years now.
The effect of this siege has been devastating. Almost two million Palestinians now live in poverty. Unemployment sits at 50%, electricity is available for only four hours each day, and the water is now largely undrinkable. The United Nations has admitted that the Gaza Strip will be unliveable in by next year.
Keane and McConnell offer a rare chance to be immersed in the heart of Gaza, as we glimpse behind the walls of this misunderstood land to get to know the real people who inhabit it.
Screen International describe the film as a "poignant and powerful documentary" about ordinary people trying to live normal lives in an extraordinary place.
Conflict may provide the background to their lives, but the film's brave protagonists make it clear that conflict alone does not define their lives.
On Wednesday at the Palas (2pm), Screwdriver looks at the efforts of a Palestinian prisoner to adjust to 'normal' life after 15 years in prison.
Variety magazine says it explores the "physical and emotional toll" felt by a prisoner who has just spent 15 years in an Israeli jail. Paraded as a hero upon his release, Ziad feels like a fraud. He attempts to get his life in order, and works with an old friend at a construction site.
However, the fast paced world and demand of modern Palestinian life become overbearing. Ziad pushes all loved ones away and struggles in silence. He is haunted by memories of his past as he struggles to move forward.
"Solitary prisoners' reliance on fantasy as a technique for survival captured my attention, and largely influenced the story of Screwdriver," says director Bassam Jarbarwi.
"Although acute suffered symptoms subside post-solitary confinement, many prisoners suffer permanent damage crystalized as intolerance to social relations. Some prisoners become so reliant on prison to organize daily routine that they lose personal autonomy. Some seek return to prison.
"This stagnant ever-waiting hopelessness pervades the Palestinian psyche. The result is an inability to define self without occupier, to organize and feel life without restriction."
Screwdriver may be a work of fiction, but is very firmly grounded in reality and finds a way of raising complicated political questions which might not have been possible in a documentary.
On Thursday, Tel Aviv on Fire (Palas, Screen 2, 6.30pm) comes to Galway after winning a prize at the Venice Film Festival.
The film is based in modern Ramallah, in the West Bank, and tells the story of a charming 30-year old Palestinian who works as an intern on a popular TV show. He has to pass through a checkpoint to get to work every day and we see the daily humiliations Palestinians face as well as the ability of ordinary people to find joy and escapism through a successful soap opera.
By showing us Palestinians as humans, with real human interests and passions, director Sameh Zoabi paints the kind of cinematic picture which rarely makes it into the mainstream in Ireland.
Tickets for all shows can be booked at www.galwayfilmfleadh.com or www.tht.ie
—  * Ciaran Tierney won the Irish Current Affairs and Politics Blog of the Year award at the Tramline, Dublin, in October 2018. Find him on Facebook  or Twitter here. Visit his website here – CiaranTierney.com. A former newspaper journalist, he is seeking new opportunities in a digital world.