My report on the launch of the Galway Anti-Racism Network (GARN), which appeared in IrishCentral.com this week. Some of the comments in reaction to the article were appalling, showing that Irish-Americans have not learned lessons from their own tough times forging new lives overseas.
——–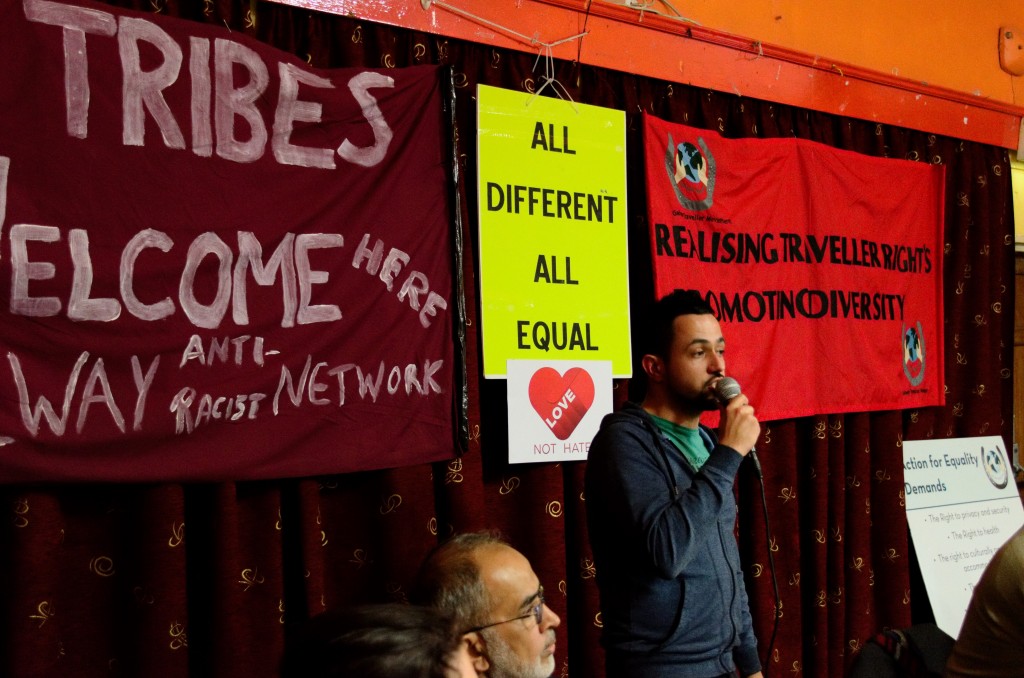 It's a subject most of us choose to ignore, something that makes us just a little bit uncomfortable in the context of how many people from our own island have chosen – or been forced to make – new lives in other parts of the world.
The island has changed beyond all recognition over the past 20 years and it was significant that there were no representatives of the mainstream media present when the Galway Anti-Racism Network was launched at a public meeting which attracted a capacity attendance this week.
The speeches went on for almost four hours, yet nobody complained. It was the first time in memory that such a diverse range of speakers shared a platform, to share their own experiences of racism in the City of the Tribes.
Under the title 'All Tribes are Welcome', it was amazing to see the positive reaction among the attendance at the launch at the Galway Rowing Club.
 
The capacity crowd at the Galway Rowing Club. Photo: Shane Broderick
These were people who rarely get a mention on the national airwaves, people who feel marginalised and that their voices are never heard.
The atmosphere was all the more electric because no event like this had ever taken place in the city before.
The organisers of the meeting have called for an overhaul of the Incitement to Hatred Act after being taken aback by the sheer number of people who attended and shared their stories. They are also hoping to liaise with Gardai and schools to bring the anti-racism message into the wider community.
Speakers included an African taxi-driver, members of Ireland's Muslim community, a former asylum seeker, a Traveller woman, and a black-Irish woman. Each of them told the four hour meeting of their own experiences of racism in Ireland.
Taxi-driver Henry Williams spoke of the casual racism of late night revellers on the city's taxi ranks who walk pass three or four black drivers before getting into a cab with a white Irish driver for their journey home.
Singer Sharon Murphy, star of BBC television series 'The Voice', told the meeting about the pain she experienced growing up as a black person in rural Co Galway and the fear she felt when she first visited Harlem in New York.
As more and more black people got onto the subway train, and more and more white people got off, she realised she had inherited a fear of people of her own skin colour during her childhood in Connemara.
"In Clifden, in Connemara, I learned to be afraid of people like myself," she said. "I remember the terror I experienced when I first went to Harlem. I realised the negative messages I had been given about black people."
Former asylum seeker Mosa Moshoeshoe spoke of the pain of trying to live on €19.10 per week under the Direct Provision system, when she was keen to work.
She said she was a poor role model for her children, but because she was a refugee awaiting asylum she did not have the option of getting a job in Galway. Even though she has since been granted permission to stay in Ireland, she has been unable to find a house to rent.
Mosa told the meeting about a friend in Co Wexford who was unable to rent out a house. She was turned down by a landlady when she phoned to see if a house was available. A day later, her Irish friend discovered that it was still available.
Her friend was pretty sure she had been turned down for the accommodation because of her African accent.
Bridget Kelly of the Galway Traveller Movement said her community faced daily discrimination in the areas of accommodation, health, employment, and education.
"Being refused access to hotels and pubs, being unable to get a house when people find out you are a Traveller, you feel ashamed of who you are," she told the hushed attendance.
Imam Imbrahim Noonan spoke of the Islamophobia he has experienced from people who were later shocked to realise that he was Irish-born. He said that his children, whose mother is Pakistani, had experienced a different form of racism.
 
Speakers at the launch of the Galway Anti-Racism Network.
Imam Noonan, of the Galway Islamic Cultural Society, pointed out that Islamic terrorists were only a tiny minority among the global Muslim community. Yet some people in Ireland wanted to blame all Muslims for the actions of the tiny minority.
According to a spokesman, Joe Loughnane, the number of people who turned up for the first public meeting of the Galway Anti-Racism Network (GARN) vastly exceeded the expectations of the organisers.
"People brought food and were keen to engage with each other," he said. "We couldn't believe it when the place started filling up 20 to 30 minutes before we even began. People were just so happy to share their stories.
"They had never been in a room that was so diverse and yet everybody seemed to be speaking from the same page. The message was very much one of solidarity and positivity. People seemed to recognise that this coming together was something that needed to happen.
"All of the speakers were thrilled by the reaction of the people in the room. They did not feel judged and they were so happy to share their stories. There was a real spirit of action, of getting things done, in the room.
"People were taken aback by how similar their experiences were. It was unprecedented to have a black taxi-driver, a Traveller woman, a black Irish woman, an asylum seeker, and Muslim representatives sharing the same platform in the West of Ireland."
He said it was clear that racism was an issue in Ireland, but that a lot of it took place behind people's backs.
Mr Loughnane spoke of his own experience growing up as a half-Irish, half-Pakistani man in Galway. He found that he experienced racism when he went into the city centre with one of his parents, but not with the other.
"There is this sense of people being taught to hate themselves or being ashamed of who they are," he said afterwards. "Thankfully, we do not have an active far-right here in Ireland. But we want to challenge racist myths that are out there. We want to challenge racism wherever we see it."
The meeting concluded when Ms Murphy led a spirited version of Bob Marley's 'Redemption Song'.
http://facebook.com/ciarantierneymedia/
* Thanks to Shane Broderick for the photos of the GARN launch. For further information about the GARN, who meet every Tuesday evening, check out their Facebook page at: