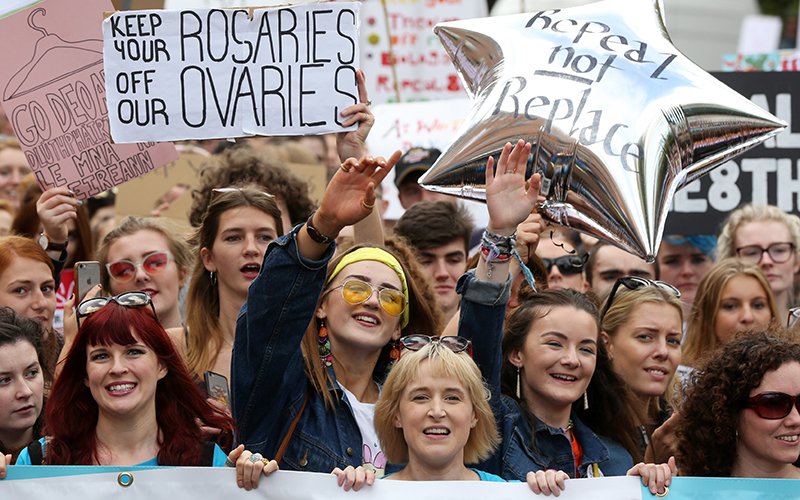 This week I was commissioned by a US website, Irish Central, to talk to both sides of Ireland's bitterly divisive abortion debate.
With the country set to go to the polls in a referendum next May or June, campaigning has already begun.
It was a difficult piece to write, as I did not want my own personal views to interfere with the interviews I carried out with activists on both the pro-choice and anti-abortion sides.
The issue is particularly poignant in my native Galway, where the death of Savita Halappanvar five years ago sent shock waves across the globe.
Savita was denied a termination which could have saved her life and who can forget the image of a medic at University Hospital Galway telling her that "Ireland is a Catholic country"?
A veteran pro-choice activist pointed out to me that Ireland was now a completely different country compared to when the current legislation was enacted in the early 1980s.
She said that homosexuality and gay marriage had been legalised, Magdalene Laundries and Mother and Baby homes had closed, and divorce had also been introduced since then.
"This is something that belongs in a by-gone era," she said. "Women used to come up to us and cry at our street stall in Galway city centre. Things have changed, but people might still be unwilling to wear 'Repeal the Eighth' jumpers in more conservative small towns or villages."
It is also striking to note the differing demographics at the huge 'Repeal the Eighth' and 'Pro-Life' marches which took place in recent months in Dublin.
Members of the younger generation seem to be far more in favour of changing the current legislation if one is to judge by the turn-out at the marches.
Yet I was also struck by sincerely views are held by those I spoke to on the anti-abortion side.
Tommy Roddy, who campaigned for Marriage Equality, shows that it's too easy to stereotype people who campaign to keep the eighth amendment.
"I have even had arguments with friends of mine over this issue," he said.
"There seems to be this assumption that if you were in favour of gay marriage, for example, that you must be pro-choice. I was criticised for my pro-life views in the General Election, but my view is that there is a pro-life culture here in Ireland."
Thanks to all four for speaking to me honestly about their convictions.
Given how sensitive this issue is, I really hope there is a clean campaign free of personalised abuse over the next eight months or so.
You can read the full article here:
https://www.irishcentral.com/opinion/others/a-bitterly-divided-ireland-weighs-the-abortion-question
To hire a journalist / blogger, find Ciaran Tierney on Facebook: http://facebook.com/ciarantierneymedia