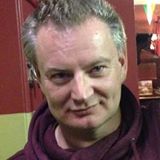 As a youngster, I used to write and edit a hand-written newspaper called The Tierney Times. It contained all the gossip about my family, who went away for the weekend or the summer holidays. Hugely important stuff!
My siblings and parents used to look forward to it every week, to check up on all the news within the family.
Sometimes I would print gossip about the neighbours. And I allowed my little brother to write the odd piece – strictly edited – too!
Little did I realise it at the time, but news gathering was in my DNA.
Later, I studied English and Journalism at NUI Galway. Writing about music paid my pocket money through college.
I wrote a satirical column for a free magazine which got me into all sorts of bother, but it was good fun, and later I went on to work for my local newspaper.
I wrote about politics, music, sport, social justice issues, the arts, and general news items for 22 years.
During a gap year in 2010, I set up a successful travel blog. Even when I took a break from the newspaper, to live in Thailand, Spain, and Central America, I was still compelled to write.
With the newspaper industry in crisis, I left the Connacht Tribune in late 2014, but still feel a compulsion to write. I love writing. It's still in my DNA.
Now that I've taken a leap into the unknown, I am seeking new adventures.
No longer writing for a provincial newspaper, I still write articles, blog posts, 'ghost' blogs, and copy for people's websites.
For me, it's the start of a whole new adventure. Get in touch if you would like me to write for YOU!
My email address is ciaran@ciarantierney.com