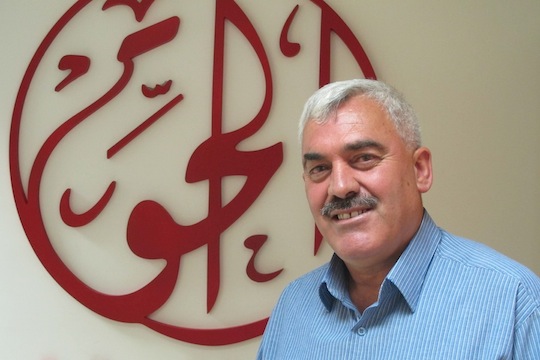 By Ciaran Tierney
One of the leading advocates for human rights in Palestine is visiting Ireland this week to urge members of the national parliament to support a bill which would ban Israeli 'settlement' goods from the country.
Shawan Jabarin, Director General of Al-Haq in the West Bank, is set to tell parliamentarians that they have a legal obligation to ban settlement products under international law.
He believes that the private member's bill currently before the Seanad could set a precedent for countries all across Europe.
Mr Jabarin will meet members of the Dail and Seanad on Wednesday (tomorrow) to urge them to support Independent Senator Frances Black's bill which calls for a prohibition on goods and services from illegal Israeli settlements in the West Bank.
"Palestinians have a right to exercise self-determination, just like any other people all over the world. They have a full right to live in peace in their land, to have sovereignty over their natural resources, and I do believe that Palestine is a test for all of the human rights principles of international law," he said, prior to the Dublin meetings.
"We are not asking anyone to do that for ethical reasons only, but to do it according to their legal obligation. My main purpose in visiting here is to encourage the parliamentarians to vote in favour of the motion before the Irish parliament about the settlement products."
Senator Black's bill is set to be opposed by the Government, as Foreign Affairs Minister Simon Coveney has said that Ireland would continue to support action at a European Union level which differentiated between 'settlement' goods from the West Bank and goods from Israel.
The Control of Economic Activity (Occupied Territories) Bill 2018 would make it illegal to purchase goods and services from Israeli settlements in the occupied Palestinian territories in the Republic of Ireland.
"It's not enough to say that Ireland is part of the EU and that we have a common market and common rules. It's not enough to say that the EU took a decision to label and differentiate the settlement products. Labelling settlement products without a vision to ban them is not enough," said Mr Jabarin.
"Why do the Governments put the responsibilities on the shoulders of the customers? The governments have a legal obligation, according to international law. According to the European law, these settlements are illegal.
"The Israelis are benefitting, with the settlers expanding their presence, deepening the occupation every day in Palestine, and pillaging our natural resources. This bill means supporting the rule of law, justice, and the legal obligations of Irish parliamentarians."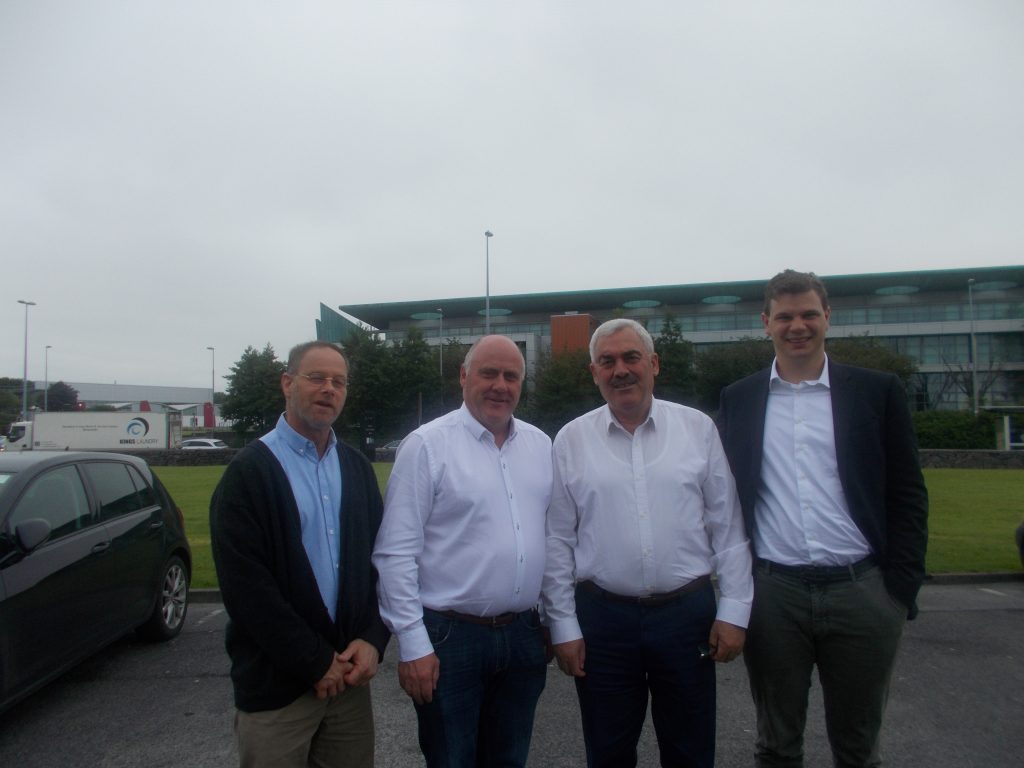 Mr Jabarin, who leads the oldest and best-known human rights organisation in the West Bank, studied international law at the Irish Centre for Human Rights (ICHR) in Galway in 2004-5 and feels a deep connection with the Irish people.
He was honoured with a 'Student of the Decade' award by NUI Galway in 2008, but was unable to travel due to a travel ban imposed on him by the Israeli authorities from 2006 to 2013.
Instead, he had to accept the award via a video link from Ramallah.
"I am here to advocate for justice, rule of law, the rights of victims, and the principles of international law. Palestinians are suffering now because of the lack of implementation of and respect for all of these principles. There is a lack of political will to proceed and push for the implementation of these principles," he said.
"Our people are suffering due to double standards and because there is no implementation of these principles. I look at the Irish Government and people as friends, who suffered for centuries from injustice themselves, and they know well what it means to be in a situation like that, what it means to be persecuted."
Mr Jabarin said that the illegal 'settlements' were widely seen as the biggest barrier to peace in Israel and Palestine, which is why the bill currently before the Irish Seanad was so important in terms of setting a precedent for other European countries.
"Moving Israeli citizens to the occupied territories is a war crime, according to international humanitarian law and the International Criminal Court (ICC) statute. So why let the criminals profit from their crimes? Why open your markets to them?"
"We are seeing what's going on in Gaza. They are shooting to kill. They are shooting civilians because they are demonstrating peacefully about their rights. Our message is that the international community has a legal obligation to act, to impose sanctions on Israel, to use all political, economic, and diplomatic means."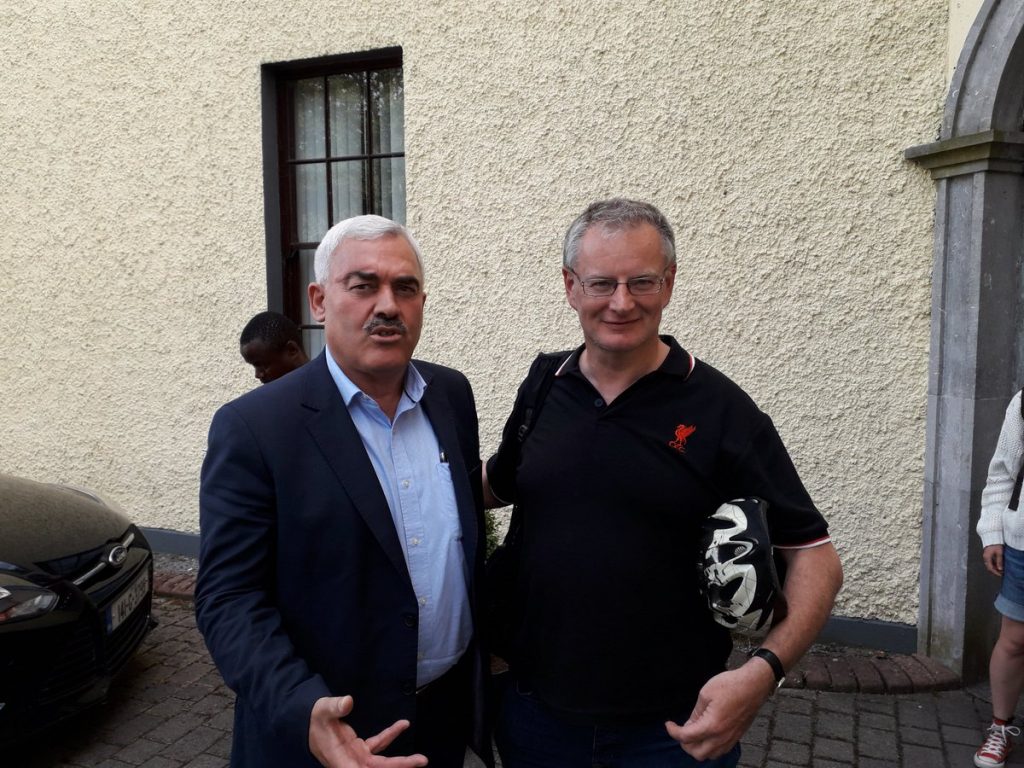 Mr Jabarin said he was determined to tell the Irish politicians that every country in Europe had an obligation to cooperate with the ICC.
He has urged them to investigate the spate of shootings in Gaza over the past two and a half months and also to be mindful of the persecution and harassment Palestinians in the West Bank face every day.
"The people of the West Bank feel that everyone has left them, that the Israelis are punishing them and persecuting them. What's going on in the West Bank is the worst form of Apartheid. It's worse than what's happened in South Africa under the Apartheid regime," he said.
"Just imagine. People cannot visit their city, Jerusalem, as they cut off the city from the rest of the occupied territory. Families are separated. Tens of thousands of families are split up because the Israeli authorities don't let them get together in Jerusalem, the West Bank, and outside.
"They are targeting the fabric of our society, to destruct the Palestinian communities, and separate them from each other. At the entrance of each city, town, and village, there are military gates which Israel can close off at any time. They are dealing with us as if we are prisoners everywhere.
"They have cut thousands of families off from each other in Gaza and the West Bank. There are families who haven't seen each other for years and they cannot get a permit just to go and visit family members. They have moving checkpoints for no reason, just to pressure people, to humiliate people. It's Apartheid and colonisation."
Mr Jabarin said that the Israeli authorities were trying to silence those who criticise the occupation, including Al-Haq.
But he believed that the smearing of human rights organisations in both Israel and Palestine would not deter them from undertaking their work on the ground.
"Human rights are not a job. We believe strongly in what we do. I know one main thing. We will not give up what we do. We will not step back. We will continue our struggle for justice and the rule of law to the end. Until this occupation ends, we will not give up," he said.
"I put hope in the international community. My big hope is in the public. The public can make the impossible possible. The public can change everything. Each one of us can do something to stop this oppression and this injustice and this horrible regime and occupation, and to stop these horrible crimes and human rights violations against Palestinians."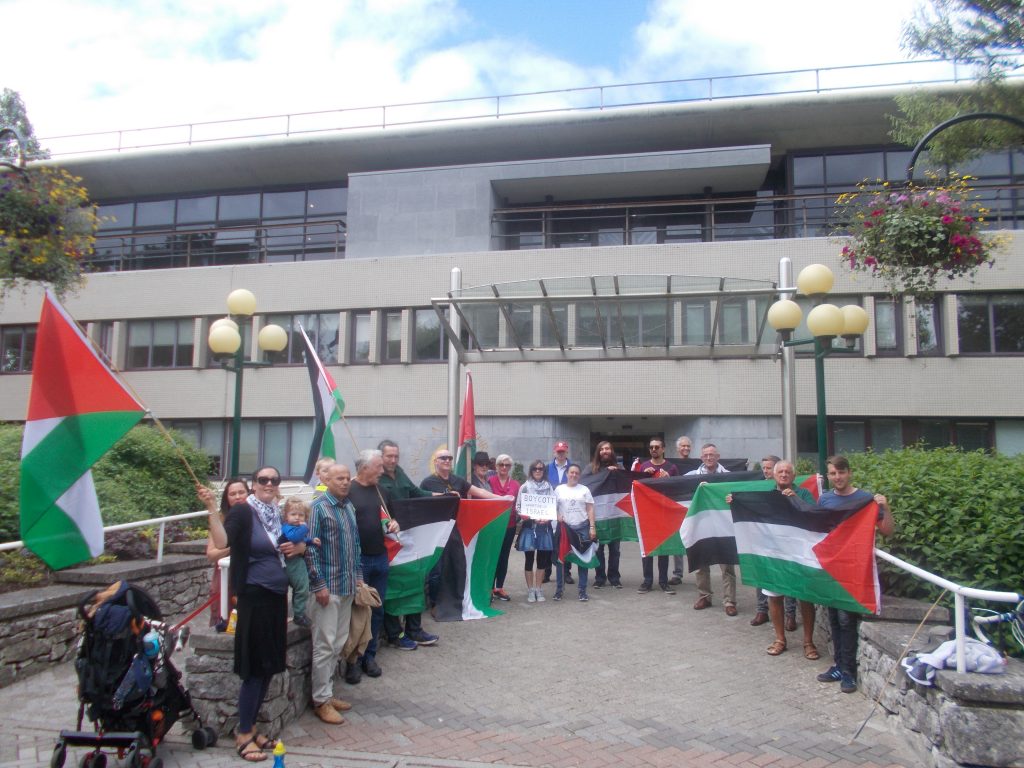 Find Ciaran Tierney Digital Storyteller on Facebook: http://facebook.com/ciarantierneymedia