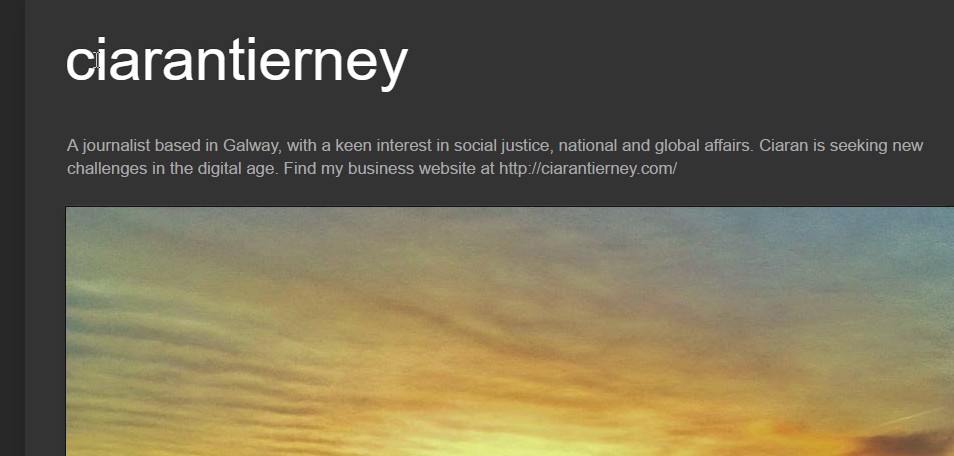 Does your small firm, start-up, or corporation have a story to tell? Would a blog, written by a professional writer, help you to reach your growing on-line community?
In my city, Galway, there is a thriving start-up scene right now. There are a host of new businesses out there, doing amazing work, and many of them don't have the time or skills to tell their stories via an 'in house' blog.
So . . . that's where I come in!
After more than 22 years in the newspaper industry, I decided to reinvent myself as a blogger, freelance journalist, content writer, and digital storyteller in late 2014.
Through my work with the Connacht Tribune, one of the biggest regional titles in Ireland, and national newspapers such as The Irish Times, I had established a reputation for fairness and accuracy while writing about a broad spectrum of subjects.
As the digital economy takes off, and more and more businesses are getting their messages across via their own websites, there has never been a better time to get a company's message across via a lively, informative blog.
A 'ghost' blog allows you to get your company's message across and to keep your customers or community informed about what you are up to.
It doesn't matter if you are a tiny start-up or a major multi-national, getting your message across via an authentic, well-written blog can be a great way of reaching and expanding your customer base.
Many businesses need quality bloggers or content writers and, after more than 22 years as a full-time journalist, I still love to write!
My own personal blog, which ranges from political rants to observations about health or family matters, can reach upwards of 30,000 readers thanks to social media shares.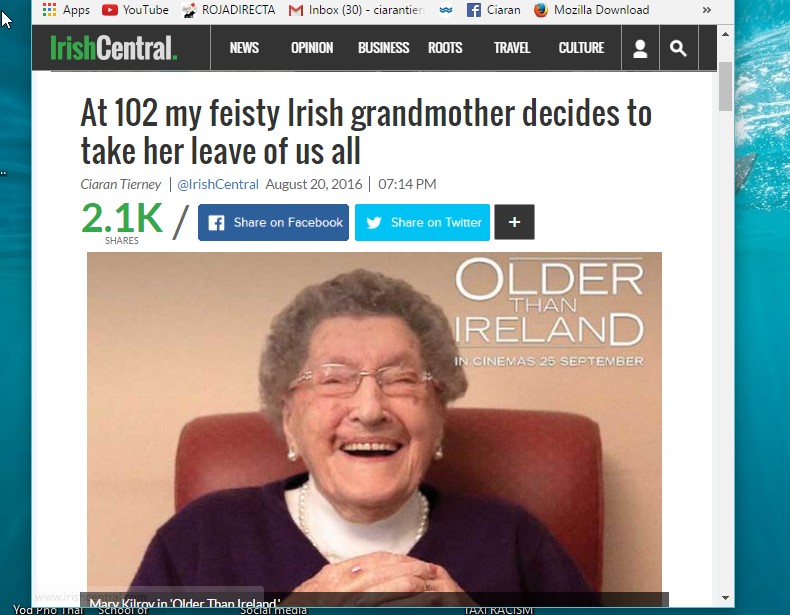 A blog post I wrote about my late grandmother, Mary Kilroy, was picked up and used as a news article by IrishCentral.com in August 2016.
Granny Kilroy lived to be 102 years of age and was one of the stars of the wonderful 'Older Than Ireland' documentary film, which was recently nominated for an Oscar.
Providing fresh content, which can be shared via platforms such as Facebook and Twitter, allows your customers to keep abreast of what your company is up to.
For a reasonable fee, I can write engaging content on behalf of your company which will get your message out there in the blogsphere.
I have a keen interest in business, sport, scuba diving, travel, social justice, politics … and I'm open to consider any offers if you are seeking a blogger to 'ghostwrite' your message and keep your customers informed.
Give me a call at (087) 7996290 if you feel that a ghost blogger might be just what your company or website requires!